By: Dr. Alyssa Musgrove, Pathways to Healing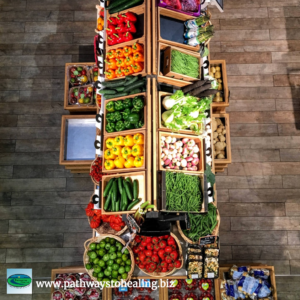 Our bodies require a rainbow of nutrients for optimal health, and eating a variety of colors is one way to achieve this fundamental health goal. It can be easy to fall into the same eating routine once you find foods the entire family likes, but the truth is our bodies benefit from food variation. Children, especially, need a diversity of foods in their diets and adults benefit, as well.
Eating an assortment of colored fruits and vegetables is the best way to receive a complete range of the vitamins and minerals your body needs in order to function. Each fruit and vegetable has a distinctive color that indicates an abundance of unique nutrients. The range of vitamins, minerals, antioxidants and phytochemicals in fruits and vegetables have enormous healing powers that can help our bodies thrive.
This week, try buying a new fruit or vegetable that is not usually on your shopping list and find a way to incorporate it into a meal. Below are a few of my favorite nutrient-dense salad recipes to help you get started.
Rainbow Chopped Salad with Avocado Vinaigrette

Salad:
8-10 red radishes, chopped
1 orange bell pepper, seeded and chopped
½ pint yellow cherry tomatoes, quartered
2 small zucchini, chopped
¼ small red cabbage, chopped
1 head romaine lettuce, chopped
Avocado vinaigrette:
1 soft avocado, peeled and pitted
½ cup chopped fresh parsley
1 tablespoon chopped fresh oregano
2-3 cloves garlic, minced or olive oil
2 tablespoons honey
½ teaspoon salt
½ teaspoon crushed red pepper
¼ cup avocado oil
2 tablespoons rice vinegar
¼ cup water, add more as needed
Place all vinaigrette ingredients in blender until smooth, taste and salt as needed. Chop all vegetables and toss together with dressing in a large bowl.
Colorful Kale salad
1 bag of organic kale or baby kale
1 tub of pomegranate seeds
Slivered almonds, pecans or walnuts
Crumbled feta or goat cheese
Healthy vinaigrette to taste
Toss all ingredients and enjoy.
Dr. Axe Raw Superfood Carrot Salad

Salad:
10 large shredded organic carrots
1 cup dried goji berries
4 organic green apples, chopped (you can use any color or what is on sale)
1 cup pecans
Vinaigrette:
3 tablespoons Dijon mustard
¼ cup fresh squeezed lime juice
¼ cup maple syrup
1 teaspoon lemon pepper
1 teaspoon sea salt
Combine all salad ingredients and toss with vinaigrette in a large bowl. Serve chilled.
Asian Chicken Salad
Salad:
Handful of shredded kale, white cabbage or both!
2 slices purple cabbage
4 slivers of fresh ginger, roughly chopped
½ carrot, slivered
4 mini red bell peppers, cut into slivers
2 mini yellow bell peppers, cut into slivers
½ pulled rotisserie chicken, no skin
Handful of spring green peas, slivered
Handful of diced green onion
Handful of chopped cilantro
Handful of black sesame seeds
(Optional additions: red chili flakes, diced water chestnuts)
Dressing:
1/3 cup sesame oil
1 tablespoon rice vinegar
¼ cup water
3 tablespoons Hoisin sauce

Heat oil, then add other ingredients and whisk together for 3-4 minutes. Let cool before dressing the salad.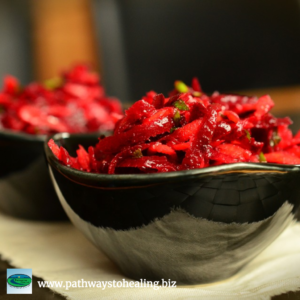 Balsamic Beet Salad
Salad:
3 large beets
5 ounces mixed salad greens
4 ounces crumbled goat cheese
Vinaigrette:
¼ cup orange juice
¼ cup balsamic vinegar
¼ cup extra virgin olive oil
½ teaspoon salt
Cube the beets and place in a steamer basket over boiling water with lid on. Steam the beets until tender, 10-15 minutes. Combine the salad greens in a bowl and top with cooled beets and crumbled goat cheese. Make the dressing by combining the orange juice, balsamic vinegar, olive oil and salt in a small bowl and whisk. Drizzle over the salad just before serving.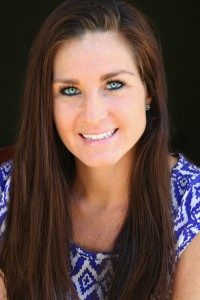 Pathways to Healing specializes in holistic chiropractic care. Dr. Alyssa Musgrove draws on a variety of techniques, including chiropractic, kinesiology, nutrition, food allergy testing and lifestyle counseling to assist clients in achieving optimal health and wellness in one setting. Pathways to Healing is located at 1022 Founders Row, Lake Oconee Village, Greensboro. The office can be reached at 706-454-2040.