By Dr. Alyssa Musgrove
Technology offers many conveniences in terms of staying connected and entertained via small devices that fit in our pockets. But, unfortunately, as smart phones and gadgets get smarter, our posture gets weaker.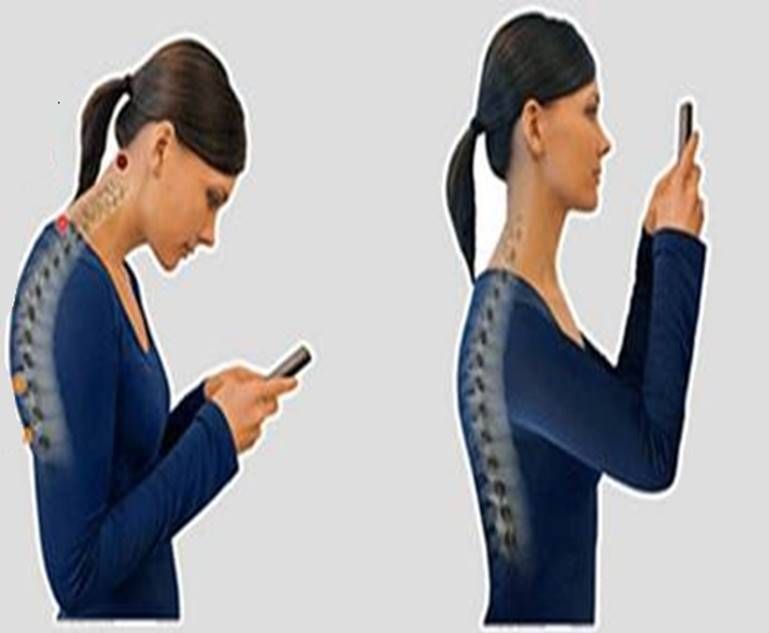 When we stand in proper alignment, the cervical spine (neck) and surrounding structures are able to support the weight of the head, which on average weighs about 10 pounds. When we look down at a phone, computer or electronic device (something we do on average between 2 to 4 hours a day), the neck is flexed forward and the weight of the head increases dramatically. In fact, a researcher by the last name of Hansraj evaluated the amount of pressure placed on the neck and shoulders when the head is at varying degrees. He concluded when the head is tilted just 15 degrees forward, it nearly triples the head weight to about 27 pounds felt on the neck and shoulders. At 45 degrees of tilt, head weight increases to about 50 pounds on the neck and shoulders. 
"Text neck" and "tech headaches" refers to conditions caused by chronically holding your head flexed and forward, as we do when looking at our handheld devices. This new societal posture norm generates a tremendous amount of unnecessary stress to the posture system and, over time, is the culprit of many symptoms people experience on a daily basis. 
Chronically maintaining a forward head posture can lead to muscle strain, headaches, neck pain, shoulder pain and TMJ (jaw) pain. Forward head posture can also cause disc injury, pinched nerves, early arthritic changes of the neck, numbness and tingling in the arms, hands and fingers. As the head moves forward and your upper back and shoulders become rounded and hunched, lung capacity decreases, resulting in shallow improper breathing that restricts the amount of oxygen reaching your tissues. 
Here are several simple steps you can take today to avoid developing degenerative neck changes, muscle strains and pain from "text neck" and "tech headaches":
Limit the time
Limit the amount of time you use your device. If you must sit for an extended period of time, take breaks to change your posture, move around and stretch. Develop a habit of taking a two to three minute break for every 15 to 20 minutes you use your device or sit at a desk. Utilize your smart device to set automatic reminders and that will notify you when to take a break, stretch and reposition. 
Raise the device
Elevate your device as close to eye-level as possible. (You can find holders for devices that make this possible.) Also, be aware of the placement of your computer screen. You should be able to look forward without looking down to view the screen. Simply lifting the computer screen to eye level will help maintain proper posture throughout the day.
Stretch
Chin tucks are a great exercise to stretch the neck. Move your chin backwards towards your chest without moving it up or down and hold for five seconds as you feel a comfortable stretch at the base of your skull. You can also tilt the head to one side, bringing the ear close to the shoulder. You may use your hand to pull your head further into the stretch (best done while exhaling your breath), holding the stretch up to 20 seconds. You can also do the same thing while rotating your head from side to side to reach different muscles, repeating 3-5 times on each side. 
A doorway can be helpful for stretching chest muscles. Place your palms flat against either side of the doorframe, with your shoulders and elbows at a 90-degree angle to your forearms. Lean forward until you feel a stretch in your pectoral muscles and hold for 30 seconds at a time.
Rest the head
If you sit at a desk for long periods of time, switch to a chair with a headrest and focus on keeping the back of your head in contact with the headrest, trying to keep your chin parallel to the ground and avoid looking down. You can also practice this while driving — focus on pressing the back of your head on the headrest in the car and bringing the shoulders back.
Be aware of pain
Use pain as a warning sign to check yourself. Experiencing pain in your neck, burning between the shoulder blades, numbness or tingling in the arms or frequent headaches is your body's way of telling you to act quickly and make a change. Pay attention to these warning signs and take action before a more serious permanent issue arises. 
If your symptoms do not improve after incorporating new posture methods, stretching and reducing the time spent on handheld devices, then it may be time to seek help from a qualified professional. Chiropractic adjustments can help relieve joint pain, reduce tight muscles and promote posture habit re-education. The sooner you seek treatment, the more likely it is that you will have success in treating the problem and keep it from progressing to permanent damage.