By Dr. Alyssa Musgrove
Last week, we discussed five strategies you can use to begin eating intuitively, as opposed to relying on the typical "diet" approach to weight management.
Intuitive eating doesn't rely on a diet or meal plan, counting calories or excessive willpower.  Rather, intuitive eating is about learning to trust your body again. It's about learning to rea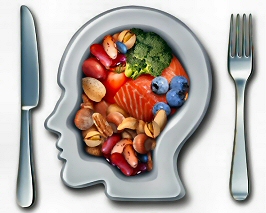 d internal cues, like hunger, fullness and satisfaction, and moving away from external cues like food rules and restrictions.  People who eat intuitively, trust their bodies to tell them when, what and how much to eat.  And they give themselves permission to eat what they want without feeling guilty.
This week, I'm sharing five more ways you can begin to incorporate intuitive eating principles, from Sun Basket's staff dietitian, Lindsey Kane. By beginning to implement these strategies on a regular basis, you'll develop healthy habits and be able to get off the diet-go-round for good. 
Discover the satisfaction factor.
Intuitive eating encourages you to identify foods that truly make you feel good—not just during a meal, but afterward, too. By doing this, you'll find yourself gravitating towards and returning to foods that make you feel your best. In addition to eating foods that make you feel good, try engaging all your senses. Slow down, appreciate the way the food looks, respect how it arrived at your plate, breathe in all of the aromas, and eat in an environment that feels good and with people who light you up. 
Honor your feelings without using food.
Food can be comforting, but that pleasure only lasts as long as the meal. Afterward, whatever was eating you is still there, buried under food, perhaps now served with a side of guilt and shame. Intuitive eating encourages you to identify whether you're feeling anxious, bored, lonely, sad, or angry and then seek a true solution. Go for a walk, call a friend, practice yoga or meditation, get a massage, read a book, or write in a journal. You'll know you're responding appropriately when the response makes you feel better, not worse. 
Respect your body.
Our differences are our superpowers, yet we live in a world that idealizes a cookie-cutter body type. The idea that we can radically transform our bodies is unfair and unrealistic. Intuitive eating challenges you to embrace your genetic blueprint, set realistic expectations, and celebrate your uniqueness. Anytime you catch yourself comparing your body to someone else's, respond as you would if a friend said something similar about themselves. 
Exercise and feel the difference.
People who practice intuitive eating enjoy exercise because it gives them energy, improves their mood, promotes self-efficacy, and makes them feel strong, flexible, and agile. For intuitive eaters, working out isn't about which activity will burn the most calories, but rather about which activity is the most fun and energizing. Exercise you enjoy is exercise that you're likely to repeat, creating the momentum that drives sustainable, long-term happiness.
Honor your health.
Acknowledging how your health impacts the richness of your life erases superficial reasons for health goals and grounds your motives in what truly matters: your personal values. Getting perspective on why health is important helps you understand that no single meal or bite can make or break your self-worth. Align your health with your ambitions and you'll be more motivated to cultivate habits that support your life goals. Ask yourself if your goals are realistic, are you accepting of your natural body or constantly fighting your genetics and beating yourself up? Respect your body and start feeling better about who you are so you can take better care of yourself long-term.
Pathways to Healing specializes in holistic chiropractic care. Dr. Alyssa Musgrove draws on a variety of techniques, including chiropractic, kinesiology, nutrition, food allergy testing and lifestyle counseling to assist clients in achieving optimal health and wellness in one setting. Pathways to Healing is located at 1022 Founders Row, Lake Oconee Village, Greensboro. The office can be reached at 706-454-2040.