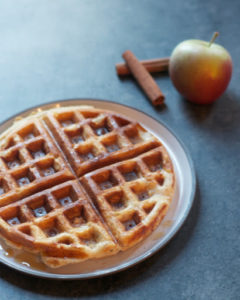 Apple Cinnamon Waffles
Ingredients
1 1/2 cup almond flour
1/2 cup flax seed meal I used Organic Golden Flax from Bob's Red Mill
1/4 cup Swerve Sweetener
1/4 cup unflavored protein powder
1 tbsp ground cinnamon
2 tsp baking powder
4 large eggs room temperature
1 cup finely chopped or grated apple
3/4 cup almond milk
1/4 cup melted butter
1 tsp vanilla extract
1/2 tsp apple extract optional, helps intensify flavor
Instructions
Preheat a waffle iron to medium and grease if necessary.
In a large bowl, whisk together almond flour, flax seed meal, sweetener, protein powder, baking powder and cinnamon.
Stir in eggs, apple, almond milk, butter, vanilla extract and apple extract and stir until well combined.
Spoon a few tablespoons of batter into each section of the waffle iron and close lid. Cook 4 to 6 minutes, or until golden brown on both sides (the amount of batter and time of cooking will depend on your waffle iron).
Remove waffles and repeat with remaining batter.
Serve with sugar-free syrup.